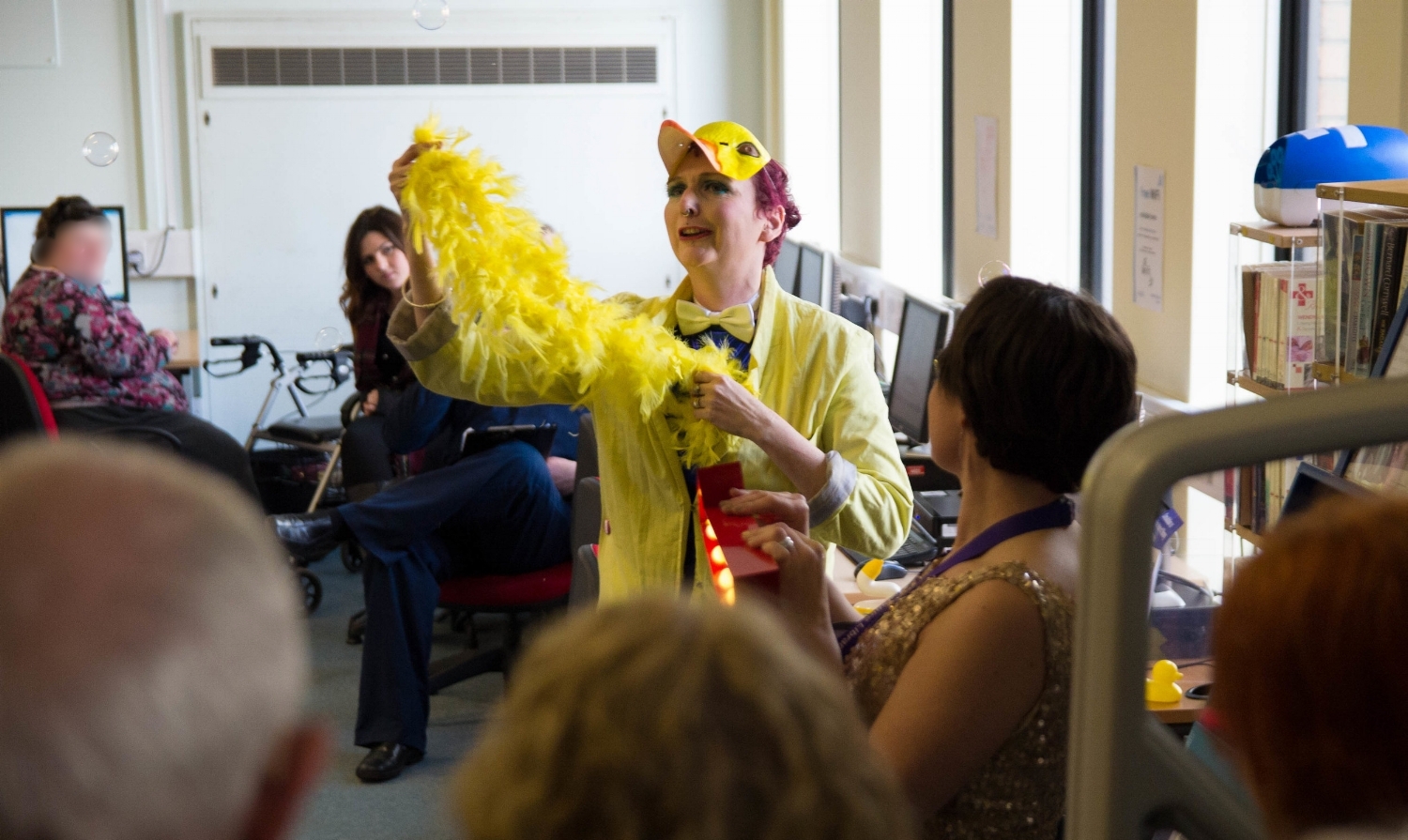 A Space for Discovery & Mischief
Discovery and mischief were themes which occurred throughout our sessions. Discovery of ourselves, each other, our libraries and how we inhabit them took place throughout the sessions. Here we share with you an activity which took place in Hanham library and led to a final performance by all the participants for an invited audience of around fifty people. We give you some ideas as to how you could structure a similar activity with your own group and give you an additional exercise and some more starting points to running this activity, or similar, with your own group. Read on and then get stuck in!
things you literally wouldn't expect in a library
Over the course of a fun day of performance exercises and hilarity, the participants in Hanham Library compiled a list of 10 THINGS NOT TO DO IN A LIBRARY. The following week, as if a gift to the participants, Liz and Lucy (co-facilitator) performed each act as a performance for the group.
Below is the running order for that anarchic afternoon.
Lucy as tour guide (very efficient and business-like)
NO SPACE HOPPERS (Liz hops past)
NO DUCKS (There are 100 plastic ducks placed all over the library. Lucy keeps finding them)
NO AMATEUR WRESTLING (Liz wrestles an invisible partner noisily behind the front desk)
NO THROWING BOOKS (tour guide finally loses her cool and throws books in anger)
NO PORNOGRAPHY (Liz is reading 'food porn' magazine, see next point too)
NO NUDITY (Liz on sofa covered by a blanket)
NO HEAVY MACHINERY (vehicle reversing sound-scape)
NO ANTI-SOCIAL BEHAVIOUR (Liz runs around littering the library)
NO FOUL LANGUAGE (combined with point below)
NO FIREARMS (audience gather for final stop on the 'tour' in the foyer and Liz sets off a glitter canon
discover more
You can watch the films here that were made at the celebratory event where participants presented their ideas to an invited audience of about fifty people on the theme; Things you literally wouldn't expect!
How could you recreate this activity with your group? Get more ideas here
Download the card below - giving the bearer one unexpected act in the library!
The picnic exercise gives you more suggestions for engaging a group with library resources and helps nurture a sense of enquiry and appetite for discovery